Our class officially ended last Sunday, and people began flying back to The States on Monday. As the group got smaller and smaller some people had requests for the one thing they wanted to do before they go...dinner at Banana Leaf, hanging out at Sunshine, lunch at Tamarind, etc. All of our usual spots. On Monday Kris, Sandra and Beth got on their flights. On Tuesday Anjali and Muxuan. And on Wednesday Phillip, my roommate left for the airport. Watching his taxi drive away was kind of surreal. I've never had a brother, but I'd say that on this trip Phillip came the closest thing I'll ever have to one. I learned so much about myself from my interactions with him and I'm so thankful to have had him as a roommate. Phillip also taught me something else. We joke about "selfie-itis" or whatever it's called (Poppop: a selfie is when you take a picture of yourself with your phone!) and I can see how some people may become seriously obsessed with selfies and their body image. However, the amount of selfies that Phillip and I took together made me happy and feel more confident about myself! Well, except for the silly ones. Ha.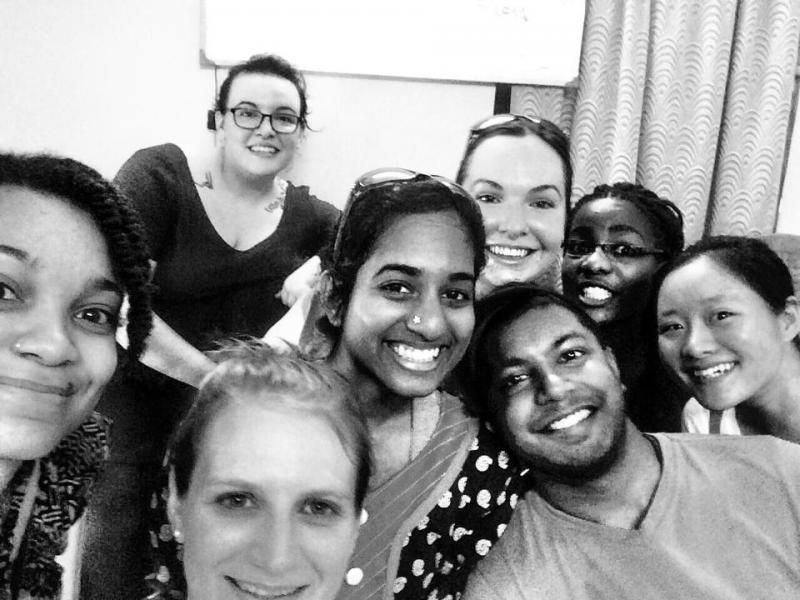 The whole group on day one of orientation
The monsoon has officially hit Calcutta. The other night we were riding in a cab to go to dinner and the streets were so flooded that it was like riding through a river!
On Thursday Laura and I joined two friends to go swimming at Calcutta Swimming Club. It was beautiful, and we had such a lovely day. Lunch at the club, swimming for a few hours, afternoon chai and then a few games of pool. It was such a strange difference from my usual days in Calcutta of walking everywhere, taking the metro, sweating to death, etc. Maybe sometime I'll write more about the dichotomy of some of my experiences here. I feel like I'm putting off writing about a lot of things, but it's just because I want to do certain subjects justice when I write about them.
My flight home is officially booked. I leave Calcutta on Tuesday evening and arrive in The States on Wednesday morning. I am finally beginning to feel a tiny inkling of readiness. I also want to clarify that no, I am not going to Thailand to work with elephants. My body has really been through the wringer, and I'm still taking a lot of medications. My immune system may be compromised, and it's probably not very safe to travel to a rural area of Thailand to work with wild animals...who knows how far the closest hospital is, if something were to go wrong. I'm still not allowing myself to feel the sadness about not getting to work with elephants... so that will come later.
For now, I am relishing all of the moments until my departure.